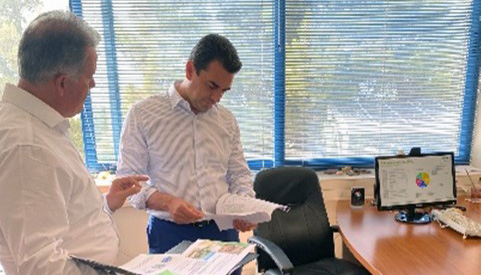 Prof. Vagelis Papadakis, project manager of SYNAGRON had a bilateral meeting with the Greek Minister of Environment and Energy, Mr. Konstantinos Skrekas on 19/07/2022.
The Minister was informed about the common collaboration between Greece and China and the activities and research results of the project SYNAGRON. The Minister showed great interest regarding the energy that can be produced from the exploitation of the agricultural residues, such as olive tree prunings, etc., which the farmer used to burn causing huge environmental hazards.
In addition, he showed a particular interest in anaerobic digestion and pyrolysis methods, as well as in their combination - subjects of the project - and in the production of various biofuels, including biomethane. He will monitor the project and await the final conclusions & proposals.